Test equipment MTR3. Microindentation and scratch tester
The MTR3 is an equipment designed for characterizing the surface mechanical properties of thin films, substrate influence, and coatings and so on.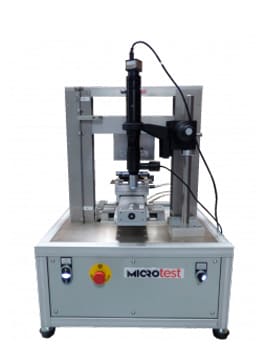 Both micro indentations and scratch tests, MTR3 test equipment has the chance of controlling under different target's variables (vertical force, displacement) by means of a servo controlled PID (proportional – integral – derivative)
Specific software ScratchTest includes a complet set of features for setting up properly test equipment MTR3 before and after performing the tests.
Test equipment MTR3 could be completed with some optional elements such as image system, acoustic emission measurement or different force transducer capacities, as well as any indenter tip shape; either standard or not.
Do you need more information about MTR3 SERIES testing machines?
Contact us to request more information about this testing machine
Tribometers and Indenters