Digital Modular Controller DMC4000 system
Fully Digital real time control loop with synchronized data acquisition and with function generation to drive the actuator.
This Digital Modular Controller Unit has a controller and signal conditioning modules for the control, measurement and acquisition of position, load, strain, etc.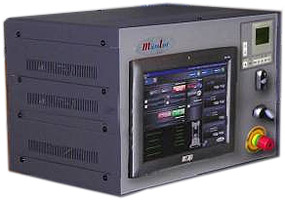 The system includes Transducer conditioning modules for stroke control, load control and strain control and they are a full range design.
Actuators will perform in load controlled, strain controlled and displacement controlled mode. The system control is from the integrated PC via the built-in computer interface.
The controller disposes of frontal operator panel to provide additional and supplementary manual user interface to the controller. This panel provides on-line scope to observe signals, digital display of measurements.
Do you need more information?
Contact us to request more information about DMC4000 controller