EM2 Series Dual Column Floor-standing universal testing system
Microtest EM2 Series floor models are dual column electromechanical universal testing systems suitable for performing static (tensile, compression, flexure/bend, shear, friction, tear, peel, etc.) and low-frequency cyclic testing over a range of force applications up to 1200 kN.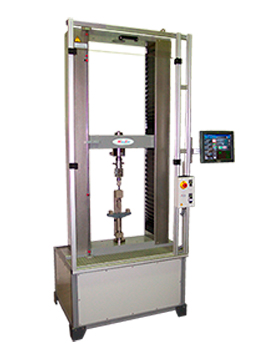 The EM2 Series floor-standing universal testing systems provide a single or dual zone test area in which the test specimens can be loaded/unloaded with minimal effort.
Testing machines force capacities ranging from 5 kN to 1200 kN.
A wide choice of load cells, extensometers, grips, specimen holders, fixtures and other testing accessories allow the EM2 Series floor-standing universal testing machines to be used for accurate and repeatable mechanical testing of metals and alloys, aerospace and automotive structures, components, plastics, polymers, composites, bolts, fasteners, cables, textiles, biomaterials, wood products, building components, etc.
Do you need more information about EM2 SERIES testing machines?
Contact us to request more information about this testing machine
Electromechanical Universal