EFH/2E Series Dual Zone Test Space Models
Microtest EFH/2E Series servo hydraulic universal testing machines provide a dual zone test space (tensile on top and compression/bend on bottom) in which the test specimens can be loaded/unloaded with minimal effort.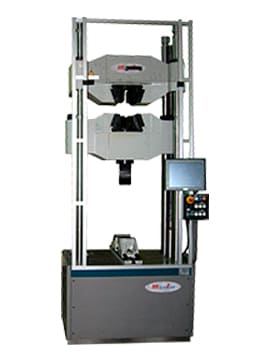 Microtest EFH/2E Series are available in a number of high-stiffness 6-column load frame configurations, all supported by a compact and ergonomic air-cooled hydraulic power supply.
These robust testing systems are suitable for static (tensile, compression, flexure/bend, shear, etc.) mechanical testing over a range of force applications up to 2000 kN (450,000 lbf).
Microtest EFH/2E Series universal testing systems can be modified as required to suit the individual testing requirements of our customers.
Microtest EFH/2E Series universal testing systems feature high resolution digital control electronics and powerful hydraulic actuators, both essential for precise and smooth mechanical testing.
Do you need more information about EFH-2E SERIES testing machines?
Contact us to request more information about this testing machine