Digital indicator for extensometric measurements
Digital portable module with display for extensiometric input signals. With data transmission to PC via RS232 interface. Designed for portable use, is not necessary a connection with PC to get the measures.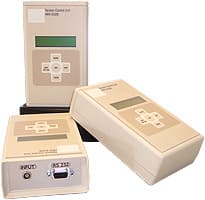 This set works only with battery power, so it is necessary to have a set of four correctly charged units or new batteries.
Configurable via program, for portable use without the need for a connection to the computer, viewing the measurement on the text "display". The settings are not accessible from the keyboard, guaranteeing your security.
The measurement is continuous without the possibility of turning it off from the keyboard, the display on the screen is the instantaneous value.
Motorola MC68HC912 microcontroller.
24-bit serial input converter, 1.2Ksps.
RS 232 serial communication at 19,200 Bauds, 8 data bits,
1 stop bit, no parity.
Text display ("display") of 16 characters with two green lines.
5-key membrane keyboard.
Serial communication commands.
WINTMU2 management program under Windows XP.
Powered by batteries or batteries type AA of 1.5V x 4.
Autonomy greater than 8 hours. (With charged 2500 mA batteries).
Download User Manual TMU Series Digital Indicator for Extensometric Measurement.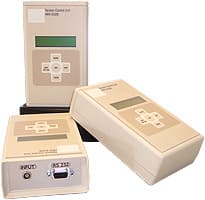 Do you need more information?
Contact us to request more information about TMU SERIES